Product Description
5 1/2" Scissor Clamp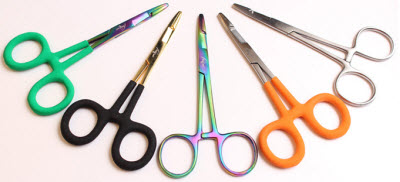 These versatile tools incorporate a micro-serrated scissor that is super sharp for maximum performance.
The instrument is designed with a smooth, grooved combo tip to quickly remove hooks, press down barbs and attach split shot. While all our Scissor Clamps are manufactured from the finest surgical stainless steel, many have the added Tungsten Carbide scissors (TC) for longer life.
The Scissor Clamps have straight tips, offer a click-lock design and are comfortable to use.

Tool Detail
This longer version of the Scissor Clamp features optional Tungsten Cabide (TC) micro-serrated scissors, which provide maximum cutting ability and a lifetime of perfect performance. The Satin and Orange colored tool has an ergonomic, NuFoam coating for more comfort and better control. The versatile instrument quickly removes hooks, presses down barbs and attaches split shot.
They are available in a variety of colors to meet your needs.
102-21TC Satin TC
102-25TC Satin/Orange NuFoam TC
102-27MC Multicolor
102-28GB Gold Tone/Black NuFoam
102-28MG Multicolor/Green NuFoam
Product Videos
Custom Field
Product Reviews