Product Description
Deluxe Nipper with Tying Tool, File & Eye Cleaner
This 4-in-1 specialty tool has super sharp flush cutting jaws, tying tool, hook sharpener & eye cleaner. Optional Tungsten Carbide (TC) jaws.
All NuCast Nippers are constructed using high-quality, Japanese stainless steel. Each cutter is specifically designed to cut cleanly and fit comfortably in your hand.
Each Nipper has a built-in eye cleaner.
Many of our instruments contain Tungsten Carbide cutters for longer life and precision cutting ability.
Nippers are available in a variety of colors and sizes to meet your needs.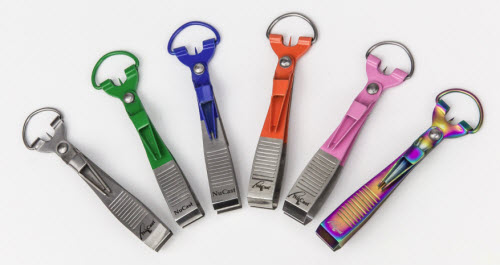 Available in these super cool colors:
100-1 Satin
100-1TC Satin TC
100-2TC Satin/Blue TC
100-3TC Satin/Green TC
100-4TC Satin/Pink TC
100-5TC Satin/Orange TC
100-8MC Multicolor
Product Videos
Custom Field
Product Reviews