Product Description
Lefty's Poppin' Bug Bodies 6/pack - 3 sizes : S, M, L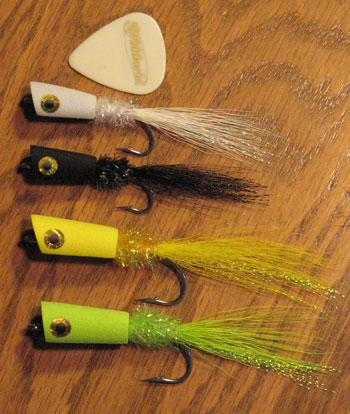 FLYBASS IS THE ONLY EXCLUSIVE SOURCE FOR THESE BODIES ANYWHERE!
When Lefty Kreh uses and endorses something, we listen. I believe he's the foremost authority on fly fishing in the world today.
Lefty developed these bodies several years ago and they are time tested.
Small: The small size is perfect for panfish and fish with small mouths (not to be confused with smallmouth).
Medium: The medium is the best all around size for any number of fish that like poppers.
Large: The large size is designed for saltwater, but can be used for larger gamefish such as pike and even muskie.
You can purchase the ready made flies in bulk packs HERE.
We sell the completed flies as both:
____________________

Small for panfish, and Medium is the perfect size for bass.
Large for Pike, Big Bass and Saltwater.
Hook Suggestions:
1) Large Saltwater/Big Bass/Pike = Mustad CK74S SS 2XH/4XL - Size 1 or 1/0
2) Medium Bass = Mustad 34011 #2; also for saltwater Mustad CK74S SS - size 4

3) Small Panfish = 4X Streamer hook #6 or Mustad 34100 #4 or #6 (#6 is smaller than #4)
The 33903 Kink shank also works well in #6 or #8)
____________________
SPECIAL HOOK PLACEMENT NOTE
These bodies come with a pre-drilled hole used when they are shaped.
DO NOT USE THIS HOLE FOR HOOK PLACEMENT on the LARGE size!
The hook eye will ride too high reducing the gap and angling the hook off level on the side plane.
The rear hole can be used, but you need to create a new channel approximately 1/16 - 1/8" above the bottom front contour.
You can also slice a channel with a cutting device and lay the hook into the groove. I believe the channel approach is best.
Custom Field