How to Integrate Saltwater Fly Fishing into a Tropical Vacation

Have you ever dreamed of stalking a sparkling bonefish flat and casting to these cruising silver bullets? How about hooking up with a ten pound baby tarpon that will absolutely kick your ass?
Here's the bottom line: If you haven't fished for baby tarpon and bonefish, you gotta do it!
You can do so without breaking the bank or risking your marriage. Here's some ideas on a general approach.

Yes, it is possible to slip in some saltwater fly fishing during a vacation provided some of the following conditions are met:
Spouse likes to fish and can cast better than you;
Spouse hates to fish, but likes to see you having fun;
Spouse likes to shop and spend your money, while you are out flogging;
You bargain for a boring trip to some Mayan ruins, in exchange for a day on the flats.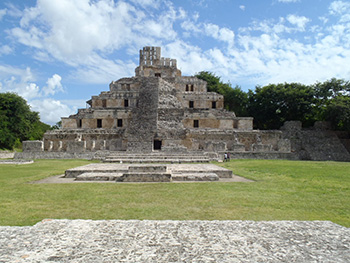 Many years ago I picked up the bible of Fly Fishing in Saltwater by Lefty Kreh. Kreh is my favorite fishing author for a number of reasons. His writings are jam packed with more practical "how-to" tips than anyone else. The book covered all aspects of taking a trip to southern tropical climes to target bonefish, tarpon, snook and other surly marine targets.
This book has undergone numerous revisions through the years, but it's still the best. This was all I needed to get revved-up and begin checking out destinations in the Gulf and Caribbean. Since that time I have experienced the best and worst of fishing trips while in pursuit of these great fish. It happens to all of us, so don't despair if things don't go exactly the way you envision. In the end, once you get smitten, you'll be conjuring up all kinds of ways to get back down there and feel the power once again.
My Advice
Bonefish and Baby Tarpon - this is the best place to start. These fish are still numerous throughout the Caribbean and can easily be tied in with a vacation.
Weather - Saltwater fly fishing usually means sight fishing. Clear sunny skies are preferred for the best viewing, but baby tarpon can often be pursued in creeks, channels and lagoons which are often protected from the wind. If you can plan a day or more with a fly fishing guide and you're flexible, try for the calmest, sunniest weather days.
Some locations feature bonefish and some feature baby tarpon. If I had to chose, I'd take the tarpon (my favorite). They are just easier - not as spooky, take flies readily, jump and fight like hell. Many locations offer both species. When you're planning a vacation, take the time to find out what's there for fishing opportunities. If all other aspects of your vacation are equal (that being beautiful water, sandy beaches, etc.) you might as well pick a spot offering great fishing as well! (Fishing information may be withheld from spouse, if necessary.)
Equipment
A good 8wt rod with a quality saltwater fly line (weight forward floating), stiff mono tapered leader, and a good quality reel is the best all-around outfit for these species. You will need a reel with a sealed drag to keep the saltwater out and continue to run smoothly. If you don't want to pay the extra money (starting at $375 plus) for a saltwater quality reel, bring the best and biggest machined aluminum bass reel you've got and see what happens. You should have at least 100 yards of 20 Dacron backing, or you'll be sorry. Tippet will vary between 10 - 14lb for bones and 30lb for baby tarpon and snook. Pack a little fly box with Gotchyas, Crazy Charlies, Del's Merkin, (size 4 - bonefish) and some Toads (size 2 - 1/0 - tarpon) and you can get started. Throw in a pair of wading boots and some good polarized sunglasses.
Here's a great resource on what to bring: http://www.angleradventures.com/bahwtb.html. This is more geared towards an actual saltwater fly fishing trip, but you'll get the idea.

General Approach
As is almost always the case, hire a local guide at the beginning of your stay. The best advice is to hire a qualified guide for at least one day on the water either via boat or wading. If you do this at the beginning of the trip, you'll get the feel of what to look for and perhaps how to gauge the tides and other factors to help you succeed including top local fly patterns.
For the adventurous angler - rent a car. I always rent a car in nearly all of the destinations we travel. This way we can explore on our own. Many of the islands, have accessible flats you can fish for free - on your own. Plus, wading the flats for bones and other fish is a fun way to begin your saltwater fly fishing. Make no mistake, it's not easy, but with time - you'll understand what to look for and begin hooking some fish.

For the not-so-adventurous type, once you arrive at your destination you can ask around for information. Beware as there are a lot of scammers out there. I'm quite skeptical of booking a guided trip through your hotel as they may not knowledgeable in fly fishing and will probably put you with a bait fisherman guide. Make sure to ask specific questions about the guide, what type of fish will you pursue and what type of tackle. Many locals will want to take you out to troll a reef for barracuda or fish a ten foot hole (called a mud) where schools of bones hangout when they're not up shallow. It's all fun, but not the true essence of flats fishing

If I'm going in totally blind, I generally check with one of the ever present dive shops and see what they recommend. Dive shops have employees that speak English well and generally have information on fishing guides.

The best bet is to conduct your own research online ahead of time on the area you'll be staying and see what's available for
guided fly fishing. TripAdvisor.com comes in handy here. You can they deal directly with the guide and probably get better pricing than through an intermediary, such as your hotel.

Mexico
If you're one of the huddled sunburned hoards that favor the Cancun area, down to Playa de Carmen there are a few opportunities, but nothing compared to areas further south (south of Tulum) and up around the top of the Yucatan peninsula and west.

In Cancun now, there are several guides to take you into some of the lagoons for baby tarpon and snook. I have not tried this because I just don't care for frenzied places like Cancun. But if you're there, give it a shot. Nearby smaller venues like Isla Mujeres actually has some decent fishing and snorkeling.
Cozumel offers some bonefishing, but I have a very good source that says it's largely bogus.
Further north towards the apex of the Yucatan there are a number of fine fly fishing destinations, but they are more geared toward destination fishing, such as Isla Holbox - and not for general vacationing.

On the Gulf (west) side of the Yucatan are some incredible opportunities for baby tarpon, but lack the great beaches, so if you're bringing a non-angling spouse, this may be problematic.

All the way down the Yucatan east cost, south of Tulum, there are places where you can explore and find some shallow flats to look for saltwater quarry. There are famous fishing resorts as you get down towards the enormous Ascension Bay. I have explored many of these areas and even snorkeled the shallows to see what kind of fish are around. The further south you go down the Yucatan, the better quality of flats fishing you will find all the way to Belize.

Caribbean Islands
Most of the islands in the Caribbean have bonefish and tarpon of various sizes, as well as other great fighting fish. Some islands are better than others. Topographically steep islands dropping off quickly into the depths are much better for diving than shallow water fly fishing.
Most of the Virgin Islands are like this and don't offer the opportunities you'll find in "flatter" "pancake" islands like the Bahamas, Caymans (Little Cayman is best), Turks & Caicos, Aruba, Los Roques, Bonaire, Cuba and similar. If I was going to pick one area containing the best of laid-back vacation activities, great beaches and lots of bones, it would probably be somewhere in the Bahamas. There are also great guides in the Bahamas to help you out and many opportunities for DIY (do-it-yourself) trips.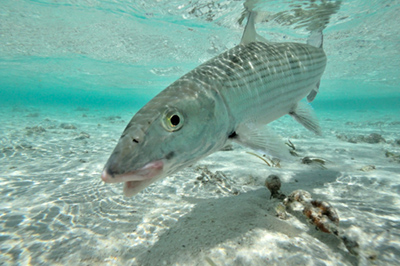 Local guides see fish much better than you ever will - and know the tides, etc. These are the two most important components when hunting for saltwater fish. Sometimes you'll just have to roll the dice on a guide. They may be good and you'll have a much better grasp of where to go and how to fish on your own.

Many years ago my wife and I took a trip to Roatan, Honduras. It was primarily a scuba diving trip, but I had my fly fishing gear along as usual. We rented a car and between diving days we'd drive around and look for flats. We were told of a flat adjacent to a cemetery, which was easy to find. We wound up going there every chance we could and it was there I hooked and landed my first bonefish and caught several more. My wife was able to lounge on the beautiful beach and watch me wade around and spook bonefish.

Google Earth is a great internet resource for finding flats and out-of-the-way spots for bonefishing. Generally lagoons and channels will hold baby tarpon, but you'll need to rent kayaks or canoes to get to them - but these can really be fun.

Over 25 years ago my wife and I went to Grand Cayman. We asked around about fly fishing and they looked at us "funny" at the dive shop. We kept checking and low and behold, there was a wayfaring guide on Grand Cayman from Wales! It was all "drive-to" fishing, mainly for baby tarpon in a maze of inland mosquito control canals dug the by government. The canals were easily accessible and we hit them not long after they were dug, so the jungle had not encroached too much - allowing for plenty of open spaces for casting. The baby tarpon were there in the brackish water and would hit poppers with gusto, jumping into trees, etc. Great fun! We returned many times, rented cars and had the entire area to ourselves for many years. There are also some bonefish flats on the Grand Cayman, but you must explore to find them.

This year, plan to tie in some saltwater fly fishing with your vacation. It will add a new dimension to your travels and probably set a fun new variable when planning your tropical getaway.

Resources for the traveling fly fisherman:

Fly Fishing in Saltwater - Lefty Kreh

Do It Yourself Bonefishing - Rod Hamilton

Flyfisher's Guide to Mexico - Phil Shook

Bonefishing! - Randall Kaufmann

Fly-Fishing for Bonefish- Chico Fernandez