Product Description
FlyBass Flat-Belly Poppers - 12/pack - Four Colors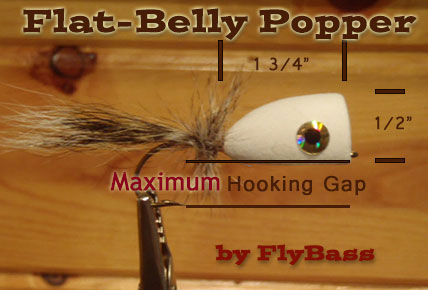 Do you want a cone shaped popper, but with the added "hook-ability" that only a flat bottom can provide?
The new FlyBass Flat Belly Popper is superior to any standard cone or conical shaped popper.
Popper Size: 1 3/4" long, 3/4" wide, 1/2" high, size Medium - best all around bass.
The flat bottom popper offers the maximum hooking gap meaning MORE FISH BOATED.
We have tested different types of body shapes and found flat bottom popper bodies such as our Blockheads and these Flat-Belly Poppers to provide the highest "hook-ability" due to the larger gap available to the fish.
These are made of the very same dense closed-cell foam material as all of our popper bodies and popper flies. This poly foam is quite holds up very well to a lot of abuse.
The durability means you can run one fly all day and catch a bunch of fish.
Bounce them off trees and rocks and they'll hold up! The only thing that will hurt them is repeated abuse by fish after fish after fish.
And that is just what you'll experience when you use these on your favorite bass lake or river!
Available in one size and four colors*:
Four Yellow
Four Chartreuse
Two White
Two Black
*You can also get them in a nice poly fly box for an extra $4.00.
You may also order a dozen of one color or other mixture. Please leave directions in the comment area during checkout.
Direct from your friends at FlyBass.com! Supplies are limited.
Bulk quantities available upon request - email us with request: [email protected]
After all, everyone loves a flat belly!
These flies are hand tied in the U.S., in-stock, and require approximately 5 business days to process, handle and deliver.
Product Videos
Custom Field
Product Reviews