Product Description
Fly Tying EBook Now Available! Now Just $9.97!
PDF Version for PC's, Laptops, and iPads

The biggest complaint I hear from fly fisherman: "I didn't have the right fly!"
People pay hundreds of dollars for guides, gear, how-to training, and fishing schools and still don't catch fish!
Get what you really need for the cost of about two or three bass bugs!

This is an electronic (downloadable PDF) fishing handbook you can use right now! Pull it out at streamside as a convenient friendly reference. Put it on your smartphone for quick access.

A Sample of What You Will Get with Top Ten Smallmouth Flies:
Tie the deadliest flies ever invented for smallmouth bass, just like the pros.

Learn

special tying tips to make them durable & to catch more fish on one fly.

Get fishing tips on all the flies. We teach you how to fish with them to score on your waters.

Learn and use our Category System of fly selection and hook more fish of any species, throughout the season.
I talked to guides, experts, and just plain great fisherman.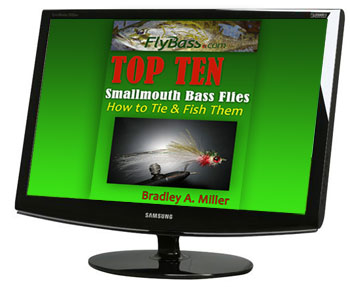 Most of the fishing books go on and on, and don't cut to the chase!
I give you the best flies, how to tie them, and and how to fish them - right now.
This EBook is an electronic (digital) book in a PDF formatallowing you immediate access right from your computer, with no shipping or handling charges!

That's it simple and fast! You can take it with you anywhere you go.
You can purchase and download this Ebook (PDF format) and begin enjoying it in minutes!
PS: It's like having your own personal fishing coach looking over your shoulder, whispering fishing tips in your ear, reminding you to follow a proven system – and telling you which fly to use right now! You have three days after receiving link to download your ebook.
Other Details
100% Money Back Guarantee
Product Videos
Custom Field
Product Reviews
Good reading and great advice

If you are looking for short cuts or earth shaking revelations, you wont find those kind of promises in this booklet. No miracle lures or ground breaking techniques. No cures for baldness or lower credit scores . Just good solid advice and a good mix of proven bass flys from someone who has obviously "been there and done that". Well done guys, Carl Smith A trout man living in bass country

Excellent The first pages are the most useful as I have access to all fly patterns in my current library

Finally, a straight forward fly guide for bass.

"Finally! A book for smallmouth bass fly fishermen which can stand right up there with the best on trout Flies selection, tying and presentation. Brad's book is long overdue and extremely useful. Now excuse me while I head out for my favorite smallmouth river (passing right by the trout stream on the way) to use my new tricks and strategies!" Dr. Max Vogt Noted Psychologist & Fly Fisherman